Reginald Angus Fleming
b. 11 September 1908, d. 22 May 1984
Person Exhibits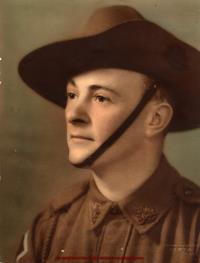 Reginald Angus Fleming, circa 1941
Detailed biography
For a detailed biography of Reginald Angus Fleming
click here
.
Family surname
For more information about the Fleming surname
click here
.
Birth
Parents
Family life
Reginald Angus Fleming and
Stella Jolliffe
were married on 31 January 1929 at All Saints' Church of England in Canowindra. The consent of both fathers was obtained. Charles Taylor Fleming was a Shire Clerk while James Jolliffe was a Contractor. The groom, a Bachelor Bank Clerk, was aged 20 from Orange and the bride, a Spinster Clerk, was 18 and lived at Cowra
1,2
He and
Stella Jolliffe
were divorced about 1943. He and
Winifred Hanigan
were married on 23 October 1948 in Sydney.
2
Residence information
Reginald Angus Fleming lived in Sydney, NSW, Australia, on 24 May 1937.
4
Working life
On 31 January 1929 Reginald Angus Fleming was a bank clerk in Canowindra.1
Death
Reginald Angus Fleming died from myocardial ischaemia and arteriosclerotic coronary artery disease on 22 May 1984 at age 75 at 262 Ellesmere Road in Gymea Bay.
2
His cremated remains were interred on 24 May 1984 at at Woronora crematorium in Sutherland.
2
Memorial
There is a memorial to Reginald Angus Fleming at Woronora Memorial Park in Sutherland, NSW, Australia.
Follow this link
for information and images of his memorial.
Citations
Click on any citation number above to view details of the source document and, possibly, access an image of the source.