Mary Jane Press
b. 24 October 1867, d. 5 March 1951
Person Exhibits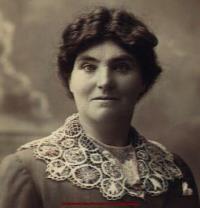 Mary Jane Kessey (nee Press), circa 1915.
Detailed biography
For a detailed biography of Mary Jane Press
click here
.
Family surname
For more information about the Press surname
click here
.
Birth
Mary Jane Press was born on 24 October 1867 in Rockley. ||Her parents (David and Susannah) had difficulty deciding on a name for their new daughter. It wasn't until after her birth was registered (on 10 December) that the names 'Mary Jane' were decided on!
1,2,3,4,5,6
Parents
Family life
James Kessey
and Mary Jane Press were married on 22 April 1890 at St Patrick's Catholic Church in Rockley.
6,7,8,9
James Kessey
and she were divorced on 14 August 1915 in NSW. The divorce was numbered 298 of 1914. They remarried each other nine years later.
7
Children with James Kessey (b. 18 June 1858, d. 14 August 1944)
Residence information
Mary Jane Press lived DETAIL on 22 April 1890 in Rockley, New South Wales. She lived with her parents
7
James Kessey
and she lived in Mount David, New South Wales, Australia, on 4 April 1901. The household consisted of 5 males (James, Harold, Joe and 2 guests) and 6 females (Mary Jane, Grace, Beat, Bern, Phil and 1 guest).
10
She lived at 2 Simpson Avenue in Coniston, New South Wales, Australia, in 1949.
11
Death
Mary Jane Press died on 5 March 1951 at age 83 at 2 Simpson Ave in Coniston. cerebral anoxaemia, pernicious anaemia
1,12
She was buried on 7 March 1951 at Roman Catholic in Wollongong. During Mary Jane Kessey's funeral at the Catholic Church in Wollongong, her daughter (Beatrice Martin), collapsed and died. Mary Jane's funeral was postponed to the next day (7 March). They are buried in adjoining graves (with Beatrice's husband, Dal Martin, buried between them)
13
Information about Mary Jane Kessey's funeral supplied by her daughter-in-law, Ena Kessey who attended the funeral[:CIT]
1,12
Citations