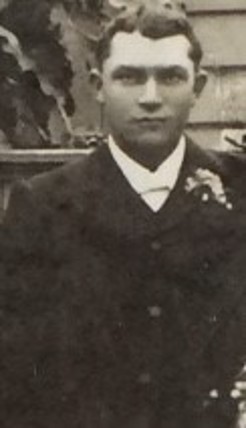 Trooper Alfred Ernest Whye was remembered in an article published in the Sydney Morning Herald this week (see below) as part of NAIDOC Week celebrations. He was among the first ten men with Aboriginal blood to go to war for Australia (in the Boer War). He was also a member of the extended family of my GG-grandmother, Prudence Whye nee Reed (later Prudence Murphy).
NAIDOC week celebrates the histories, cultures and achievements of Aboriginal and Torres Strait Islander people. It is promoted by the National Aborigines and Islanders' Day Observance Committee (NAIDOC).
Alfred Ernest Whye was born at Gongolgon in north-western NSW (between Bourke and Brewarrina) in about 1882, the youngest of five children born to Alfred Haylock Whye and Caroline Hilt. His father, a native of Waterbeach in Cambridgeshire, had emigrated to Australia eight years earlier. He had then travelled to Gongolgon to join his uncle, Joseph Whye, who had built the Lame Horse Hotel there in about 1862. Joseph's hotel was still catering successfully to people travelling to Bourke and Brewarrina from the south. Joseph and his wife Prudence probably employed his nephew while he got established in the district.
Young Alfred's mother, Caroline Hilt, was member of the Wayilwan tribe - part of the Ngiyampaa language group of people who lived south and east of the Darling-Barwon River near Brewarrina. Her ancestors had built the ancient fish traps there, known to them as Biame's Nghunnhu, one of the oldest man-made structures in the world. Given her Anglicised name, it is possible that her father was one of the European stockmen who first moved into the area during the 1840s, but she was raised in her Aboriginal culture and was a fluent speaker of the Wailwan dialect of Ngiyampaa. The Aboriginal population of the district was estimated to be about 3,000 in 1845 but the effects of dispossession had reduced this to about 1,000 by 1863.
Caroline's partner, Alfred Haylock Whye, abandoned her and their five children soon after young Alfred was born. By the time his infant son was three years old, Alfred senior had married Ann Denson in Christchurch, New Zealand. They eventually returned to Australia and produced a family of five children, but almost certainly had no further contact with Caroline Hilt and her children. She had formed a new relationship with Samuel Parker that produced a daughter, Caroline Parker Whye who later married Tracker Frank Williams. (He later successfully tracked the murderer of Robert Whye, his wife's nephew.) During the 1890s she had three more daughters whose surname was Whye, even though Alfred Haylock Whye was not their father. She also had a son named George Dunn.
As a young man, Alfred Whye must have found work with his "aunt", Prudence (widow of his uncle Joseph Whye). She had since married James Murphy and they now ran the Lame Horse Hotel in Gongolgon and the Family Hotel in Bourke. In 1899 and 1900, young Alfred was the licensee of the Lame Horse (now re-named as the Commercial Hotel), but the life of a publican must not have appealed to him.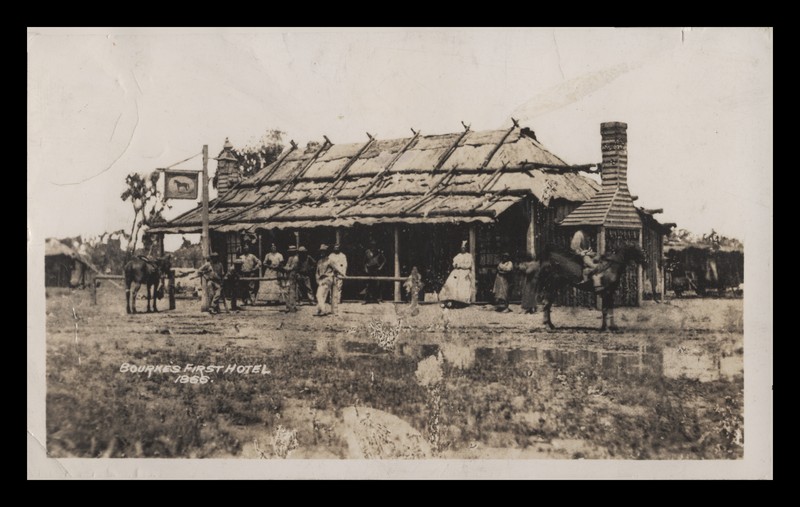 The Lame Horse Hotel at Gongolgon (pictured in 1866) where Alfred Whye held the license in 1899 and 1900.
Click the picture to access a full-size original on the website of the Australian National University.
He joined the 3rd NSW Mounted Rifles as a Trooper on 27 February 1901 and arrived in Durban a few months later as part of the Australian forces committed to the Boer War campaign. Reflecting on his war experiences in later life, he stated that he: "chased the Boers around and about. We captured hundreds of them … and took all their big guns. In the end all they were left with was rifles. They were tough though, by gee. The gamest I ever saw. Some of them were boys, only 12-years-old they were. And old men, with their clothes all patched up. But gee could they fight." (South Auckland Courier, 1968)
Whye was discharged on 12 June 1902 in Sydney. His conduct and character were described as exemplary, and he was awarded the Queen's South Africa medal with five campaign clasps: Cape Colony, Transvaal, Eastern Orange River Colony, South Africa 1901, and South Africa 1902. Almost immediately he moved to New Zealand and, three years later, he married Mabel Annie Plumley at Otahuhu (Auckland). They had five children. He worked for the New Zealand Railways. Mabel died in 1932, and he later married Ethel Elizabeth McCrory, a 48-year-old spinster.
Alfred Ernest Whye died on 28 April 1969 at his home at Ōtāhuhu and was buried at the Ōtāhuhu cemetery. His legacy as an Aboriginal soldier has been recognised in recent history by a biography published by the Australian Boer War Memorial. His biography has also been published by the Australian Dictionary of Biography and the Indigenous Australia website. He also has a memorial page on the website of the Australian War Memorial.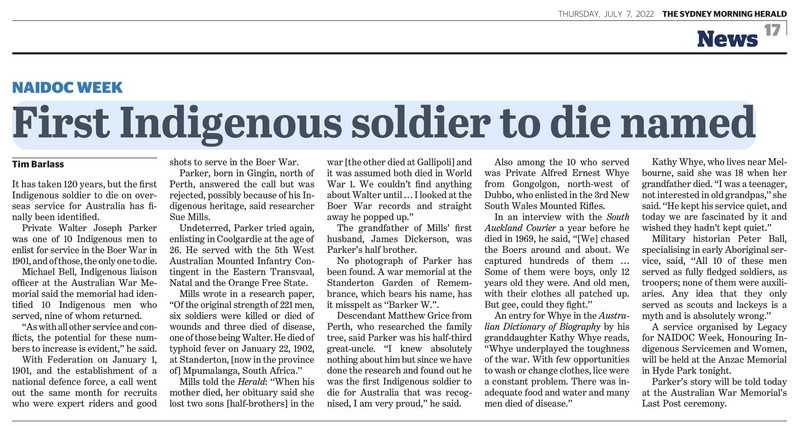 Alfred Whye is mentioned in the last two columns of the article published in the Sydney Morning Herald on 7 July 2022