James Murphy
b. November 1843, d. 23 July 1914
Person Exhibits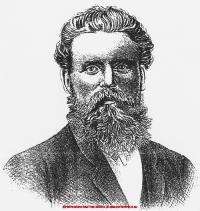 James Murphy circa 1887
Detailed biography
For a detailed biography of James Murphy
click here
.
Family surname
For more information about the Murphy surname
click here
.
Birth
Parents
Family life
James Murphy and
Ann Malcolm
were married on 28 December 1864 at Church of Saints Michael and John in Bathurst.
1,2,7
He and
Ann Malcolm
were divorced in November 1878.
8
He and
Prudence Reed
were married on 18 May 1879 in Gongolgon. C of E||He was a 33 year old bachelor from Ireland; she a 33 year old widow from Sydney. Both lived in Gongolgon. His father was a farmer; hers a publican. Best man, William Johnson, signed with a mark. Bridesmaid was Prudence's daughter from her first marriage, Frances Whye (aged 15).
9,10,11
Residence information
James Murphy lived in Campbells River, NSW, Australia, on 28 December 1864.
1
Working life
James Murphy was a general farm labourer in Bathurst.3
On 28 December 1864 James Murphy was a farmer at Campbells River in Bathurst.1
Death
James Murphy died on 23 July 1914 at age 70 in Bourke.
4
Citations