Prudence Reed
b. 3 July 1846, d. 29 October 1940
Person Exhibits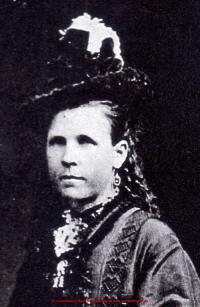 James Murphy circa 1887
Birth
Was born on 3 July 1846 in Sydney, NSW, Australia.
1,2,3,4,5
Was baptised on 30 August 1846 in Sydney, NSW, Australia. ||Robert Luxford's "Reed Family History" mentions "another baptismal record - Prudence, August 1846 (born July). (Her father)r had become a constable in Kent Street. Previously the babies were baptised in St James or St Philip's church, the two nearest the Barracks. Prudence was baptised at St Andrews which suggests that James was stationed at the watch immediately behind the still incomplete cathedral."
2,3
Parents
Family life
Joseph Whye
and Prudence Reed were married on 28 April 1863 in Bourke.
1,6
James Murphy
and she were married on 18 May 1879 in Gongolgon. C of E||He was a 33 year old bachelor from Ireland; she a 33 year old widow from Sydney. Both lived in Gongolgon. His father was a farmer; hers a publican. Best man, William Johnson, signed with a mark. Bridesmaid was Prudence's daughter from her first marriage, Frances Whye (aged 15).
7,1,8
Children with Joseph Whye (b. about 1835, d. 6 May 1877)
Children with James Murphy (b. November 1843, d. 23 July 1914)
Working life
On 28 April 1863 Prudence Reed was a servant at No 18 Station in Gongolgon.6
Death
Prudence Reed died on 29 October 1940 at age 94 at 19 Fernhill Street in Hurlstone Park.
1
She was buried on 30 October 1940 at C of E in Randwick. The undertaker was Arthur Ernest Walters of the firm Walters & Son
1
Citations